Our industry may well be in the final stages of a three-year disaster that began in 2020 with the Covid-19 pandemic and will hopefully end in 2022 that will be long remembered as the year of the chaos in the clothing industry, when US retailers increased their imports. by 40% compared to the same period in 2021, expecting a surge in consumer demand that never materialized, with the result that retailers had to deal with mountains of unsold goods and possibly unsaleable.
The big question: what next?
Many in our industry still believe, or at least hope, that events in the recent past were due to some weird anomaly and that soon things will return to Ordinary. They can be reassured by the solution: do nothing! Eventually things will take care of themselves.
At the same time, others are finally acknowledging that these events mark the end of the old industry which will be replaced by a new post-virus industry.
Those who try to look into the future are faced with these serious problems, including how to look forward from the current period of chaos that we do not yet understand, to a future that we cannot understand because it does not exist not yet ? Unlike their counterparts operating in the world of doing nothing, they are in a most uncomfortable position: they have to do something.
Unfortunately, professional consultants in our industry have little to offer because their knowledge and experience is based on incremental development (ID), their role being to analyze their client's current structure and system and, based on that, design a strategy for moving forward. The best consultants work to increase their clients' productivity, reduce costs, improve quality, increase profits, etc.
Incremental development is often of great value, but not in times of change. By its very nature, ID deals exclusively with one entity at any given time – Your factory or retail business, now. It is a one-dimensional point in a multi-dimensional universe operating in a space-time continuum.
Bear with me. I'm not about to drag you into the abstruse worlds of Einstein's cosmology or quantum mechanics. I will stay in our world of sleeves and shoulder pads.
To understand what happened, we need to add two factors: when (time) and where (space).
Imagine living in 1900 and operating a horse-drawn carriage factory. You live and operate on the cusp of change as horse-drawn transportation is about to disappear, replaced by the automobile. Ask yourself: Does increased productivity, reduced costs, etc. etc have any value?
Consider the "when"
Back to the chaos of 2022. Ask yourself: why has the increased consumer demand not materialized?
There are several reasons, but one point is clear. The problem has nothing to do with the three-year catastrophe let alone the chaos of 2022. We know this because American consumer demand for clothing has been in decline for decades. As we can see from the chart below (derived directly from US government data). Over the 27 years from 1992 to July 2022, apparel retail market share has fallen from 5.9% of total retail sales to 4.4%: a decline of 26%.
Looking only at the present provides no answer. We cannot understand what is happening now or what will happen in the future if we do not go back to the past. The chart gives us a viable trendline for the future.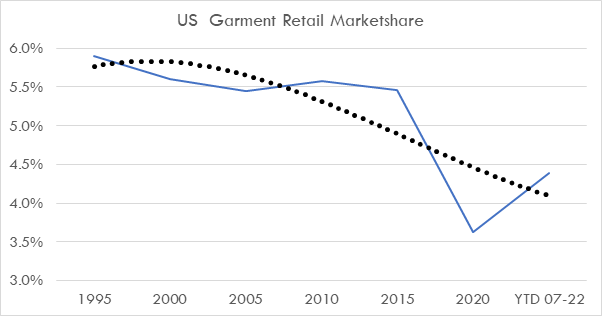 Consider the "where"
The chaos of 2022 is fundamentally an American problem. In 2022, US apparel imports increased by 40%, while imports to the EU increased by 17%. If we look at the wealthier industrialized countries in East Asia, we can see that apparel imports to Korea increased by 19%, while imports to Japan actually fell slightly by 0.3 %. Why the United States? Why not the EU? Why not East Asia?
Looking only at the United States provides no answer. Again, we cannot understand what is happening in the United States without looking at our local problem in a global context.
Any rational conclusion about the severe recent difficulties that culminated in the Great Chaos of 2022 must take into consideration both time – 27 years – and space – the United States.
We need to ask ourselves: What strategies have US retailers consistently implemented over the past 27+ years that are fundamentally different from the strategies of European retailers?
Ironically, the answer may lie in the "successful" efforts of the progressive development consultants who have worked so hard to ensure lower annual costs.
As you can see in the graph below, FOB prices have fallen every year except for 2011, the year after the 2010 recession, and the current year when retailers fell into the throes. of unnatural exuberance.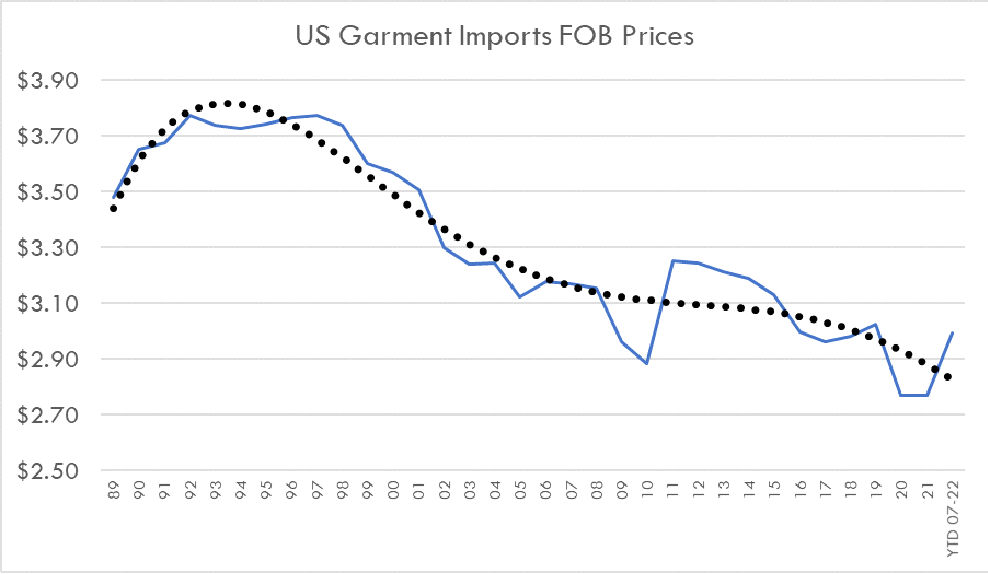 To understand what happened, we must once again step out of the United States and into the larger world of the global apparel industry. From 2021 (the most recent year for which data is available).
Here are the top 10 garment exporters:
Share of the global apparel market
China
31%
EU 27
27.5%
Bangladesh
8.8%
Vietnam
6.7%
Turkey
3.6%
India
3%
Pakistan
1.7%
Indonesia
1.7%
Cambodia
1.6%
UK
1.0%
We can see that China and the EU together account for over 58% of global apparel exports. All the others are on the second or third level.
We can understand China with its huge garment and textile industries and competitive prices.
But why the EU? If you break the EU down into its constituent countries, five of the top 10 garment exporting countries – Italy, Germany, France and Spain – are EU countries. They are not the least developed member states of the EU. Indeed, daily wages in these five countries are higher than monthly wages in Bangladesh.
What do they offer?
I offer four advantages:
Mark: Labels made in Italy, France or Spain are worth more to the consumer than labels made in Bangladesh, Pakistan or India.
Design: The EU is the biggest design center in the world. This does not mean that French or Italian designers are more talented than American or British designers, but rather that the most talented designers migrate to the EU where talented designers are appreciated and interesting clothes are marketable.
Access to quality fashion fabrics.
Better to do: I accept that many disagree, on the whole, a garment made in Italy, Germany, France or Spain is better than the same garment made in Bangladesh, India or Pakistan.
Consider the top 10 US apparel imports for the same time period: 2021
U.S. apparel market share
China
24%
Vietnam
17.6%
CAFTA-DR
10.6%
Bangladesh
8.8%
India
5.1%
Indonesia
5.1%
Cambodia
4.7%
Mexico
4.1%
EU27
3.1%
Pakistan
3%
With the exception of China, Vietnam and of course the EU, seven of the top ten are producers of cheap labour. The EU, the world's second largest clothing exporter, ranks 9e with a market share of 3.1%, higher than that of Pakistan but lower than that of Mexico.
When we look at the most recent data for the year to date in July 2022, we see an even clearer picture.
As we can see from the graph below, total imports for the most recent period, year-to-date to June 2022, increased by 4.1%. While all major providers saw substantial increases, not all increases were equal. With the exception of Indonesia, the big winners – Bangladesh, India, Cambodia and Pakistan – were all producers of cheap labour.
US PCT Increase YTD 06-21 – YTD 06-22
World
40.1%
China
40.1%
Vietnam
35%
CAFTA-DR
24.6%
Bangladesh
60.3%
India
57.3%
Indonesia
60.3%
Cambodia
52.5%
Mexico
20.4%
EU27
41.8%
Pakistan
50%
Conclusion
I suggest that the secular decline in U.S. retail apparel sales is the result of long-term efforts by U.S. importers and retailers to continually reduce apparel costs.
The American consumer does not buy clothes offered by American retailers for the same reason that the rest of the world buys clothes made in the EU, but the other side of the coin. The very qualities that make the EU the supplier of choice are viewed as having negative value by US retailers.
Here is the result :
Negative brand value: clothes made in countries that are not held in high esteem by consumers.
Boring designs; Designers' efforts are invariably ignored to enable quality assurance – the need to allow production in low-cost, low-quality factories.
Poor quality base fabric.
Bad manufacture.
As the world moves towards a consumer-driven economy, the US apparel retail industry is moving in the opposite direction.
It's just my opinion. You may very well disagree. However, I would ask you to present an alternative, based on existing data.
27 years of declining retail market share
A problem unique to the United States
30 years of falling FOB prices